Hi and Welcome Back! Okay, mayhem may be a bit of a strong word, but here is what happened. I have a hard time at Hobby Lobby.  It is one of the few options we have here in our little town,  and everybody rants and raves about it.  Don't get me wrong, I love it if I need certain supplies and I'm very thankful I don't have to drive an hour to the city to get stuff.  But when it comes to the decor, I can't ever picture how I'm going to use something.  I like things, but I just can't seem to think of where to use them,  or the thing I can use is too expensive, so I end up not buying anything and getting home with nothing.  I have the same problem with clothes, which is why you'll see me recycle the same 3 pair of jeans and handful of tee-shirts over and over again.
Anywho,  the last time I was there I decided to check the clearance section just for fun.  I popped over and found a "captain's mirror".  It was perfect, and bonus – it was marked WAY down from $130 to $20!  This never happens to me, I couldn't believe it.  I was so excited!  I had the perfect spot, I love the idea of a mirror close to the door.  You know, so you can "check yourself" before you head out.   I had a spot where I was going to hang it, right by the front door and right as you head down the hall.  It looked very similar to this one.
Well, you can probably see where this is going.  As soon as I pulled up, I grabbed it out of the car and when I did I dropped it and it shattered all over the driveway.  Boo!!  Cleaning it up was super fun (insert super dramatic Liz Lemon eye roll here).  It was ruined, but I was bound to use the cool wooden circle and leather strap for something.  My poor husband was kind enough to put on some heavy duty gloves and get all the remaining glued on pieces of broken mirror out of the frame for me.  I just couldn't do it myself, it was too much broken glass.
Then I had to figure out what I was going to do.  I tried to find a replacement mirror, but no luck.  The cheapest thing I found was about $60 and it wouldn't even fit perfectly.
I had remembered seeing at Wal – Mart those pieces of round glass that you use to put on top of a table.
I grabbed one for around $8.  Then I found this stuff, so I thought I would make my own mirror.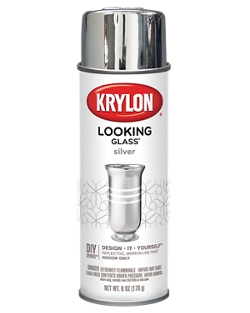 Well, maybe I used it wrong, I don't know, but it did not work well for me.  It looked like a very hazy, clouded, dirty mirror.  VERY hazy.  I tried to follow directions very carefully, and I use spray paint all the time, but this didn't work.  I used the whole bottle (maybe 6 coats).  Maybe another bottle would have done the trick, but I don't know.
So, that idea wasn't going to work.  I started looking through some inspiration photos on Pinterest (like I always do), and saw THIS tutorial from My Own Home Blog on how to make letters look "rusted".
Look at those beautiful letters!  And, she uses cinnamon!!  So, that gave me an idea.
I grabbed some $1 wooden letters from the craft section at Wal-Mart.  They were very basic wooden letters.  I used my glass circle, the letters and the rusting technique to create a personalized pic with our initials. I first sprayed the glass with some leftover Rustoleum Metallic Aged Copper and then used the cinnamon and the spray paint in layers until it looks like I wanted it too.  I also had a can of Rustoleum Metallic Oil Rubbed Bronze that I used to layer in.  When I got it looking like I wanted,  coated it all with a clear protective coat, so the cinnamon wouldn't flake off.
Then I did the same thing with the letters (visit My Own Home Blog for full details), but used metallic acrylics in grey and copper.  I then glued and clamped the letters to the glass until they were completely dry.  I waited about 2 days, just to be safe.
This is right after I put the glue on, pre-clamp.  I made sure to wipe all that excess glue off.
The last problem was that the circle wasn't quite big enough for the frame.  But, that's not really a problem.  I hung the frame where I wanted it and traced along the outside and inside of the frame.  Then I removed the frame and painted the wall inside the frame black. I was careful to make sure to go just past the inside line, but to not go past the outside line.
Once everything was dry, I re-hung the frame and then I hung the glass (with command strips), directly on the wall in the center of the frame.  It is hard centering a circle in a circle, but that is why I love command strips.  If something isn't "just right" you can tweak it until it's perfect.
So, it wasn't the mirror I wanted but, for about another $15, I created a unique piece of wall art.  And my kids always love when I put our initials on anything.
 And Bonus!! It's been hanging for a month or so and it still smells like cinnamon when I walk past!  YUM!
Thanks so much for stopping by!
-April