Hi and Welcome Back!
We are gearing up for a fun-filled football season around here.  We love to watch football, especially on Saturdays when college is on.  Almost every weekend, I make a barbecue and we either go tailgating or have friends over on Saturday.  If you follow along, you'll know that we are HUGE college football fans.  Every now and then, we will get the NFL bug.  while we aren't a passionate about the pros, it's still football!  So if people are watching, we'll join in and bring some food too :).
If you are looking for some more great tailgating recipes, check out these that some of my friends have done!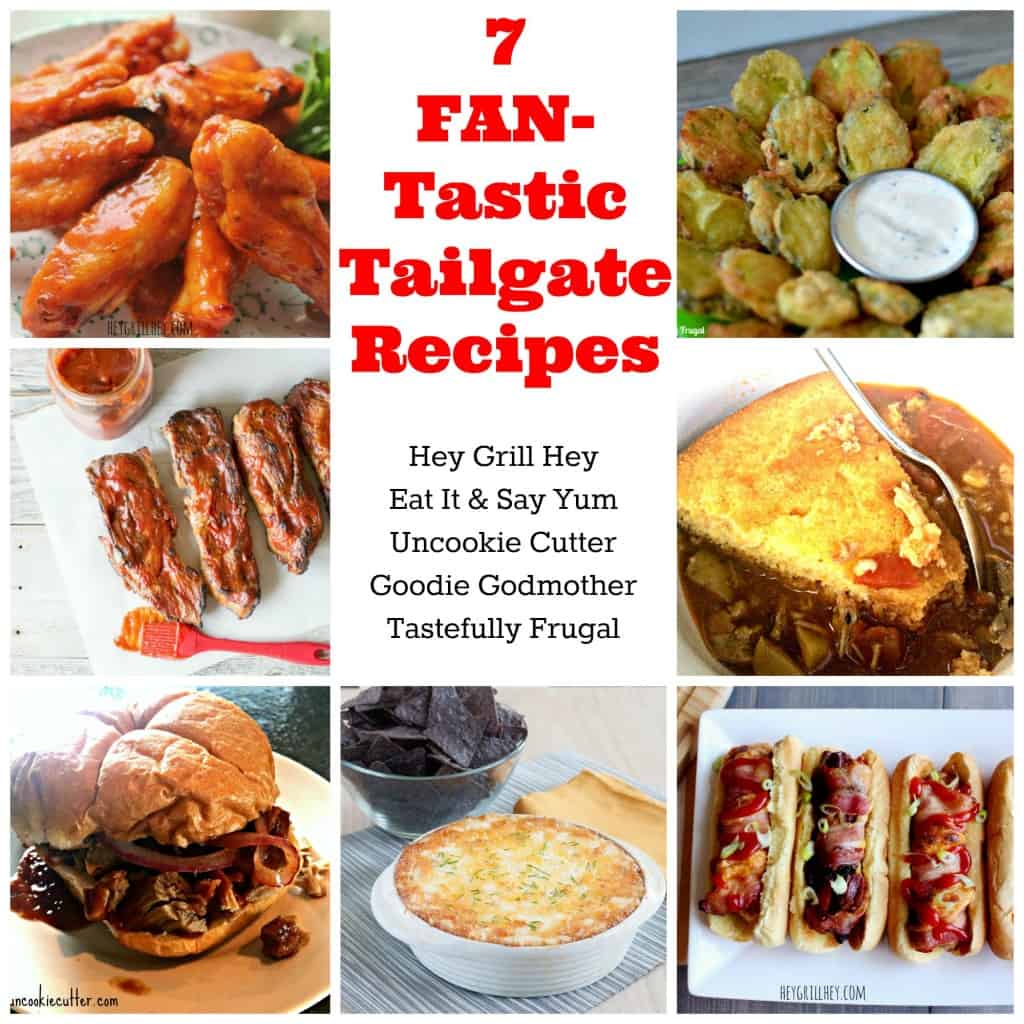 Ultimate Buffalo Chicken Wings|Hey Grill Hey Country Style Barbecue Ribs|Eat It & Say Yum Barbecue Beef Sandwiches|Uncookie Cutter Famous Baked Onion Dip|Goodie Godmother  Fried Pickles|Tastefully Frugal Brunswick Stew|Uncookie Cutter 5 Epic Stuffed Hot Dogs|Hey Grill Hey
Whenever it is fall and Saturday at the same time, I make barbecue.  I love it, and it reminds me of my favorite resteraunt back in Auburn, Mike and Ed's BBQ.  I love it so much that I will always pick up extra bottle of their sauce when I'm visiting, and I even have my mom bring bottles or ship it to me.  It's so easy and easy to transport, which makes it great for your tailgate.
On another note, my dad makes and awesome Brunswick Stew that uses leftover BBQ.  It is so good, let me tell you!  And I really don't even like stew, but this one is sweet and all brown sugar-y yummy.  My dad told me he sort of combines a lot of recipes to get this stew.
This post is a 2-fer.  Is that a thing?  I don't know, but anyway, this is a breakdown of how you can use one pork butt or shoulder blade for two recipes, making it a weekend long treat.
So, without further ado…the breakdown.
Get either a Boston butt or pork shoulder roast, whatever size you like.  Rub the meat on both sides with olive oil and yellow mustard.
Brown pork on all side in a salted skillet.
Make a spice rub of brown sugar, cumin, salt, pepper, Tony's or other creole seasoning, paprika and onion powder (See below).  Rub about half or less of this over the meat, pressing in as much as you can.  Place in slow cooker the night before (Friday for us) and add a bottle of beer, ginger ale or chicken stock until it's about half full.  Let it cook overnight (or for about 8 hours or so).  If you can, flip the meat over at some point, but not necessary.
Also on Friday night I go ahead and marinade the chicken for Sunday's stew.  The chicken is totally optional, if you don't want to get out the slow cooker again, just leave it out.  I like to use chicken thighs, they are so tender, but breasts will work as well.  I rub the other half (or less) of the spice rub onto the chicken and stick it in a ziploc bag with Italian dressing.  Stick it in the fridge for a few hours to a day.
When you get up the next morning, drain the meat and put it all on a chopping board and chop it all up. Reserve half the meat for the stew.
That's about it for the BBQ.  Easy peasy!  I usually put it back into the crock pot for serving and keep it on warm. I like to serve BBQ sauce on the side, along with some lightly caramalized onions and pickles.  You can also have slaw on hand, in case people like that on their sandwich (I do).  I like to leave it all out on Saturdays so people can help themselves as they like.
Saturday night, I'll pull the chicken out and stick it in the slow cooker over night.  I pour the whole bag, dressing and all in there and turn it on for a few hours.  Chicken doesn't take as long, but it can sit while you sleep :).
Sunday, I'll cook some chopped bacon and onion in a dutch oven until the bacon is done.
Add enought chicken stock to cover a bag of small fingerling potatoes (cubed) and boil about 15 minutes.
Add 1 can corn, 1 can creamed corn, 2 cans diced tomatoes, Worcestershire, BBQ sauce and more of spice rub if you have any leftover. Add about 1/2  to 1 cup more brown sugar if interested.   Let it simmer for a bit (15 min or so) and then it's done!
That's it, a whole weekend of yummy tailgating food with one Boston butt!
Spice Rub
2/3 cup Brown Sugar
2 tsp cumin
2 tsp salt
1 tsp pepper
4 tbsp Creole seasoning
1 tsp paprika
2 tsp onion powder
I'm not very good at writing recipes, but let me know if you have any other questions!  And go check out some of my friends tailgate recipes.
Thanks for stopping by!
April
Sharing and partying over at:
Talented Tuesday Link Party, Wednesday Roundup, Dream,Create,Inspire,Link, Hit Me With Your Best Shot, Tip Me Tuesday, Wow Us Wednesdays (Savvy Southern Style), Pin Worthy Wednesdays